A jewel called Mooi Falls
Posted by Doug Morton on Tuesday, 05 February 2013
I know I've featured Mooi (or Zulu) Falls more than once before, but thought it could be interesting to give you a brief background to this lovely property that has just a tenuous grip on its survival as a lodge.
For many years I'd heard about Mooi Falls, but hadn't really believed that such a minor river could generate an impressive waterfall. I had this mind's eye picture of a rippling brook tumbling down some rocks, giving the impression of a cascade. What actually had me interested was that the area was home to Wattled Cranes, and that there was a good breeding colony of Bald Ibis. No matter how paltry the waterfall, the birds would make a visit worth the trip.
If only I could find out where the waterfall was. This, of course, was in the days before Google Earth, and no-one seemed to know, and it took a bike excursion by my son Deryk to get the location for me. Yes, it was on private land, but there was a lodge, open to the public.
There had been all kinds of political turmoil in the region, the most telling being a land claim on the farm by a local community. I never found out if the claim was contested, but it seems that the original owner moved away, and it fell to a volunteer enthusiast to heft the cudgels at keep the place going. A quick scrutiny of the facilities would persuade any observer that the place was worth the effort. And so Willie Ferns stepped up to the plate.
For a long time the property had been a hunting ranch, and there was still some game running. It seemed the original owners had decided that it was time to hunt out the game and leave. And so stagnation set in, with the new owners, the local clans, undecided about how to proceed, and totally unequipped to do so. In addition, there were two leaders who didn't really agree on who was in charge, or on how to handle things. To his great credit, Willie did what he could to make the operation work, but eventually conceded defeat, and retreated to his business in Durban, leaving the lovely property to its fate.
On my first visit to the Falls, in August 2010, I went alone, and saw a waterfall of with not too much water, but what a fall. The scenery was truly dramatic and as I thought about it, it occurred to me that introducing more people to the spot would improve the lodge's chances of commercial survival.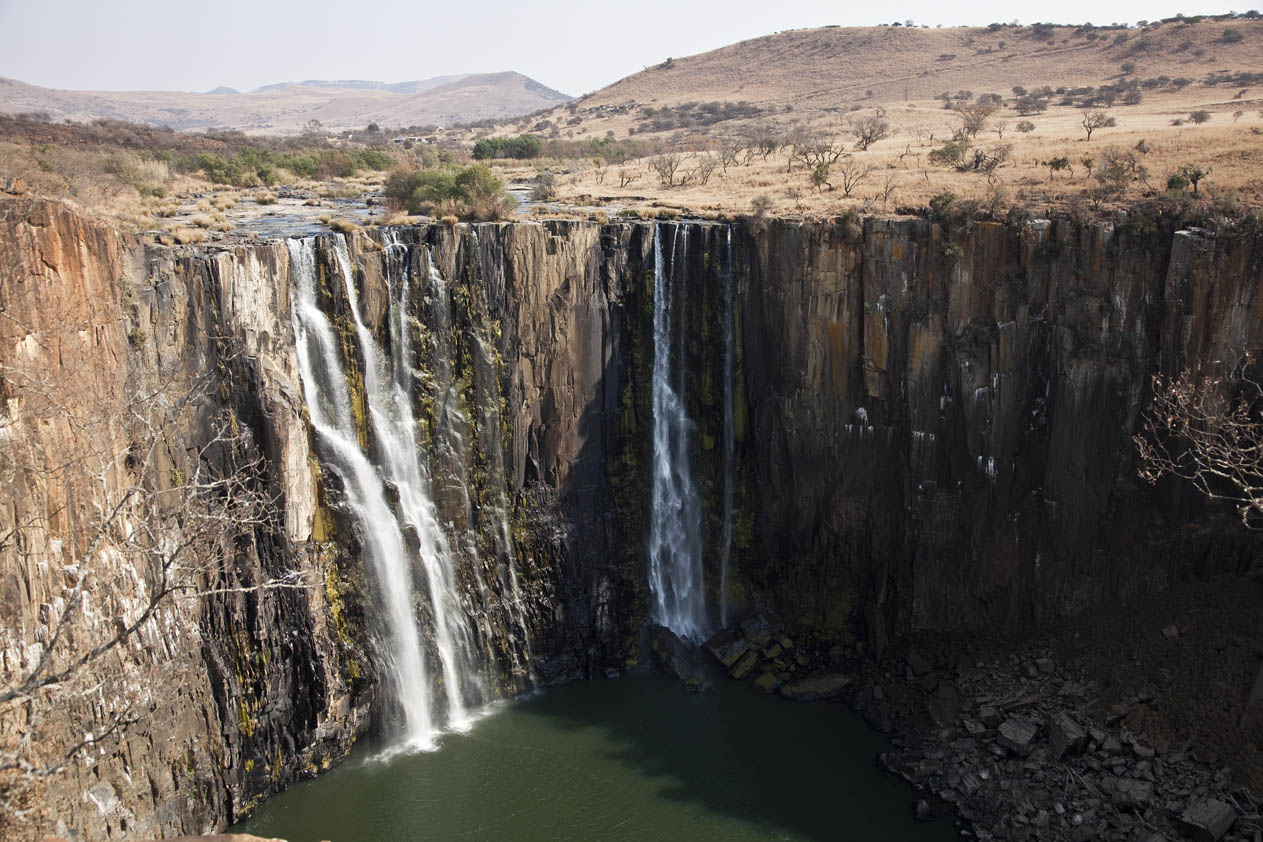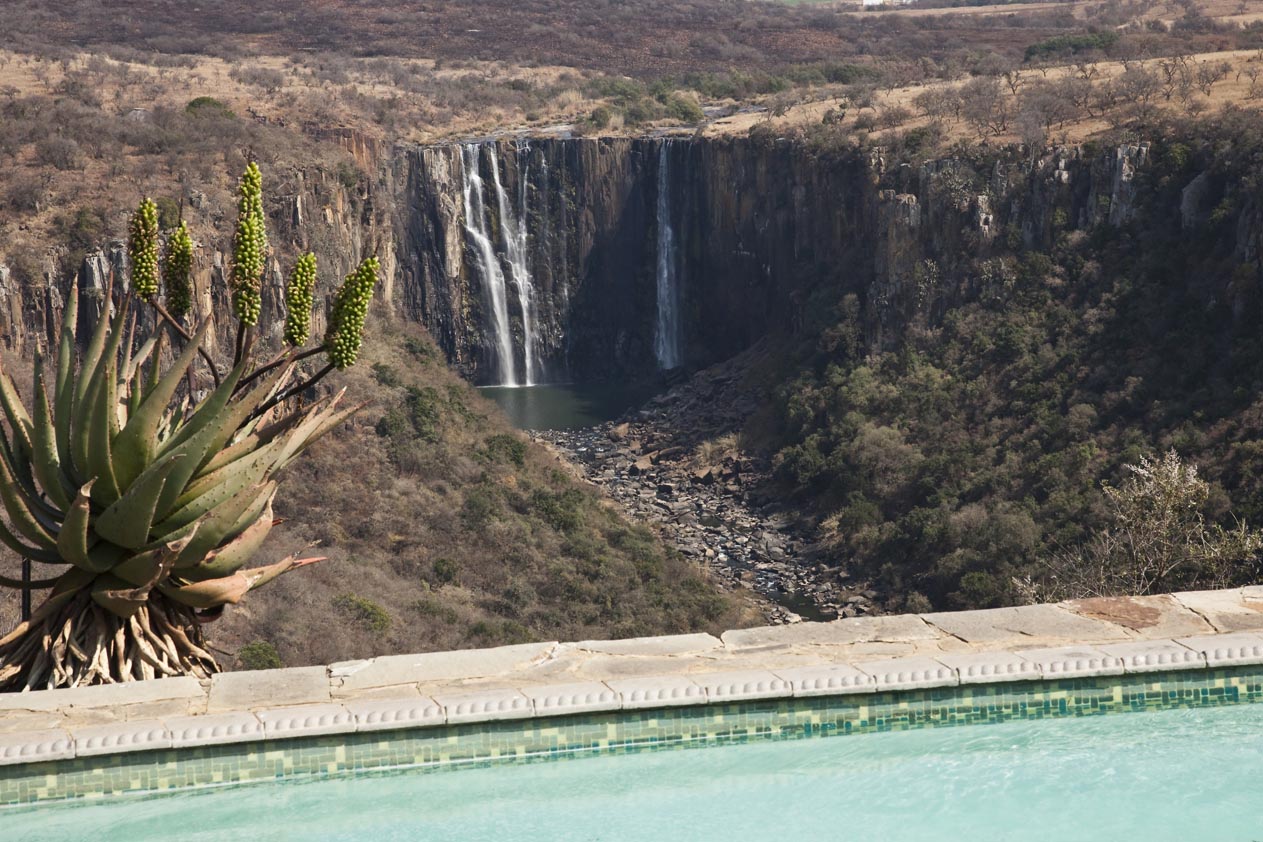 I put out a call that was picked up by Fran Simmons from Howick, and Alison Duncan and some friends from Durban. The visit took place two months after my initial one, and was a quite embarrassing after my telling all and sundry about the amazing Falls. The river had all but dried up and the entire farm and surrounding area had been burned out by a runaway bush fire. It was a scene of devastation, an aftermath to Dante's Inferno, a composition in black and brown under a glaring colourless sky, with just a suggestion of water trickling down the cliff face. As we all know, there are pictures to be found anywhere by an adventurous camera, but it was a challenge.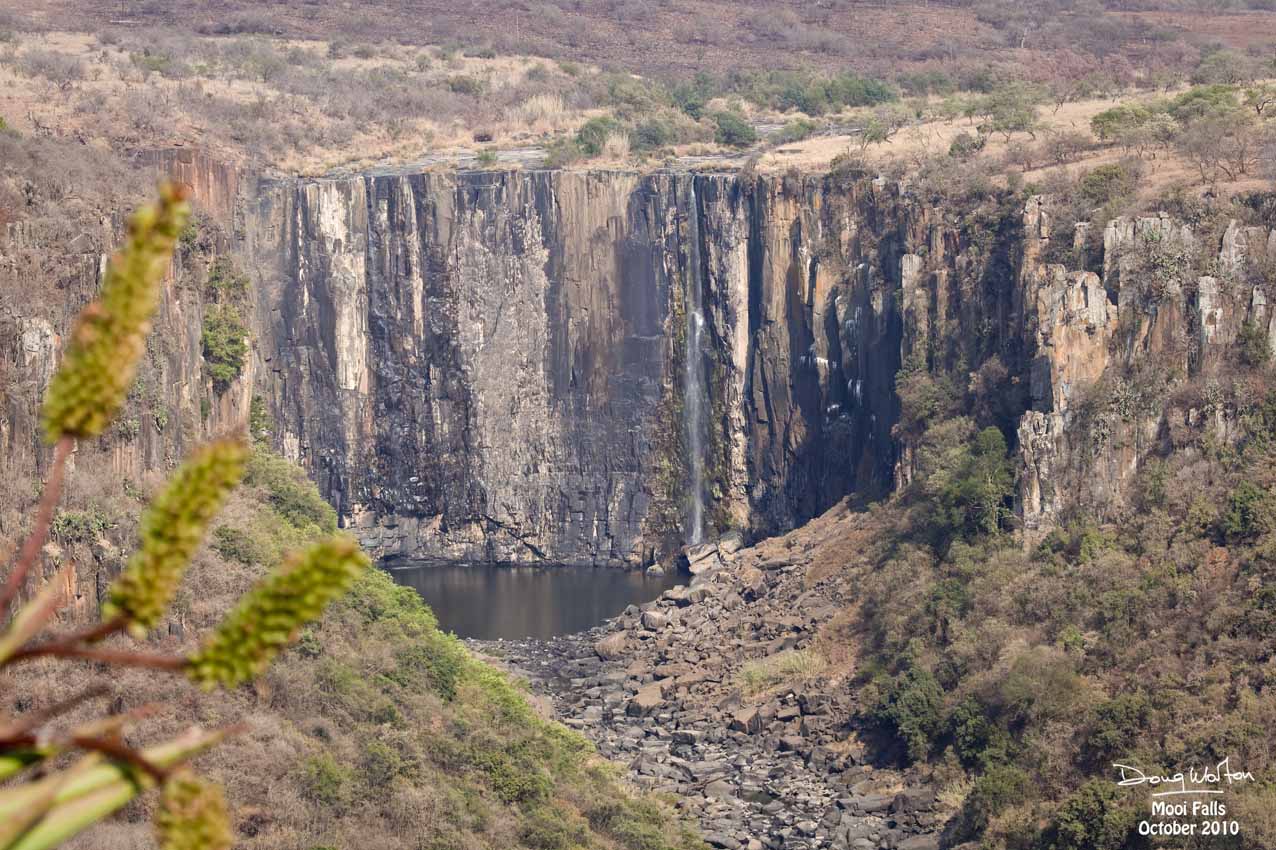 Roll on January 2012, and Sam Davies and I paid another visit, to be utterly blown away by the transformation. The very ground shook as we watched the flooding Mooi River plunging over the precipice, with clouds of spray and mist obscuring our view until the summer sun imposed its authority on the scene. What a thrill it was to see, hear and feel the might of this spectacle. We had no-one else to share it with, and we drank it in, taking as many photographs as we felt were justified. When we left for home we were satisfied that we'd seen the place at its best.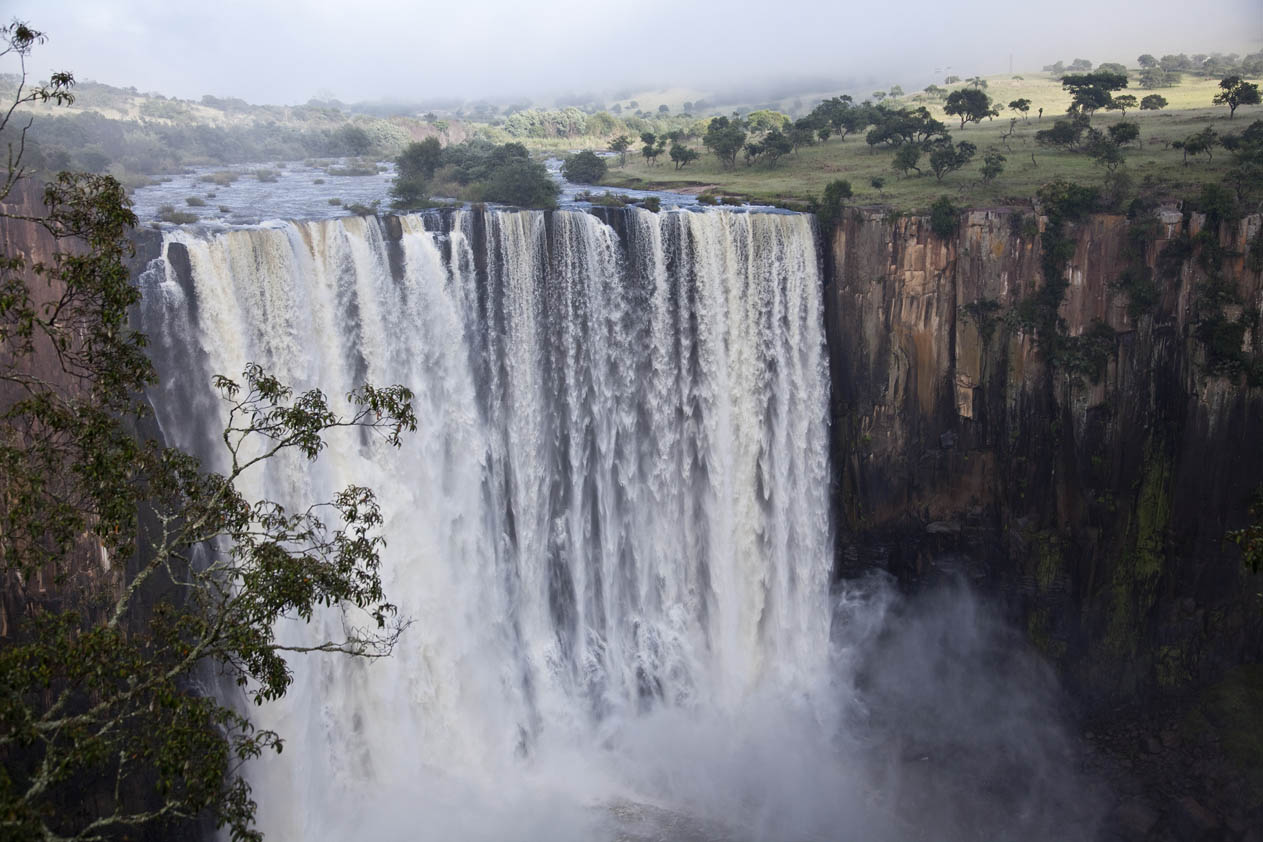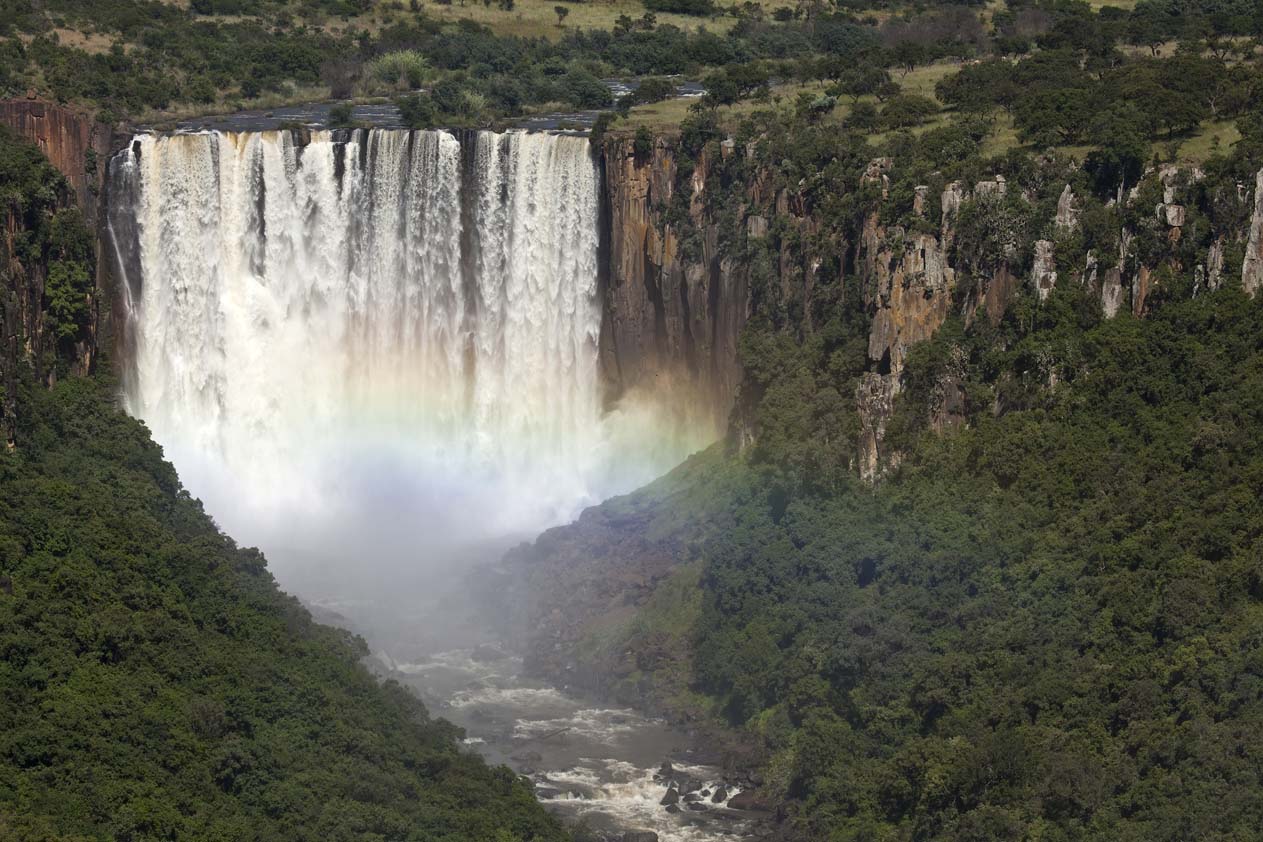 It was around this time that Willie Ferns withdrew. I kept in touch with him, thinking to go again at some time, and eventually found that there was a new actor on stage.
Enter local dairy farmer Doug Fletcher. He had obtained a lease on the property from the community, and with his wife had set out to get the lodge onto its feet. So it happened this past December that another group discovered the Falls and were privileged to see them at their best. The lodge itself was well maintained, and we had the use of the facilities for the day, the only hitch being that no-one had switched on the water pump, and the taps were dry. But it was a good visit.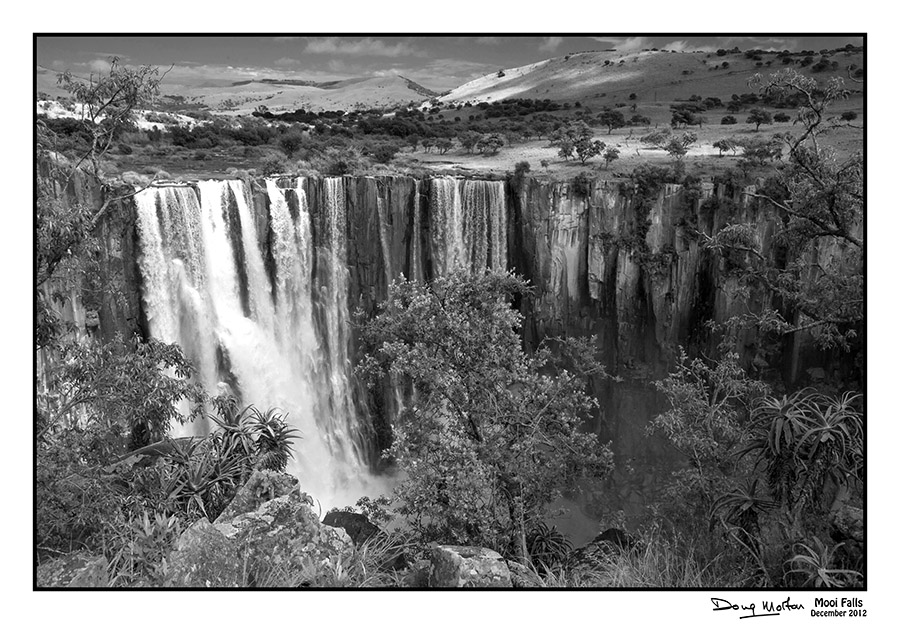 After watching the developments and writhings over these few years, it was difficult not to feel just a bit proprietorial about Mooi Falls. I told Doug Fletcher that I was keen to publicise the lodge, but his response was interesting. Although he agreed that numbers were needed, he wanted only the "right type" of people - people wanting to see and enjoy nature in all its forms, who wanted to experience the place by walking or cycling or by merely sitting back and looking. Now THAT I do understand.
I know that the people this blog is going out to are the right type, and if you'd like to see the place yourselves, please contact me for details. I hope you will. You deserve it.