Picturing Vernon Crookes
Posted by Doug Morton on Saturday, 02 February 2013
For a long time I'd spoken about organising a photographers' weekend at Vernon Crookes Nature Reserve, just inland from the Kwazulu-Natal south coast at Park Rynie. I'd been there a few times previously, but never since getting enthusiastic about my camera. In those days everything had revolved around birdwatching, and Vernon Crookes was as good as it gets.
Being as patient as I always am, I couldn't wait for the weather to settle down, and chose a weekend in October, when the coastal climate is at its least stable. Checking all and any forecasts meant little, and I knew that it would be a lottery. Too late I remembered holidays over the Michaelmas (October) school breaks, or I'd just have stayed at home. But then, hope springs eternal, and with the prospect of the company of some good friends, I took the plunge, and booked out the entire hutted camp.
The camp at Vernon Crookes consists of six double rondavels, with a communal kitchen and ablutions. Sharing the kitchen with strangers is a poor idea, hence booking the whole complex and trying to persuade enough folks to join in. In the event, not enough went along, but we few had the camp to ourselves. And the rain. And the mist. This is what awaited us.... not exactly the ideal al fresco picture.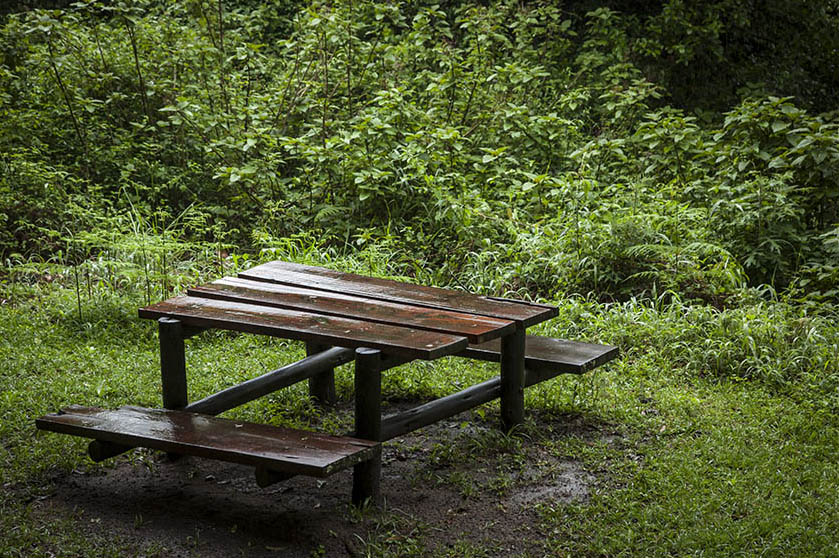 After all the phone calls, FaceBook messages and emails, the party dwindled in numbers, and eventually consisted of Fran Simmons, Marlene Allerston, Terri and your truly. This had the advantage of being able to travel in one car and not having to try to explain to anyone how to get there, or to have to organise maps and directions.
We'd left Maritzburg in gloomy weather, and things became progressively bleaker as we neared the coast. By now we'd become philosophical about the prospects, and had decided we'd find things to do anyway. The entire area was soggy after a week of rain, and the clouds hung low over the countryside, slowly weeping an endless fine spray onto the already saturated ground. As we drove along the reserve road to the camp the car slithered sideways at will, and traction seemed to be no more than a bonus.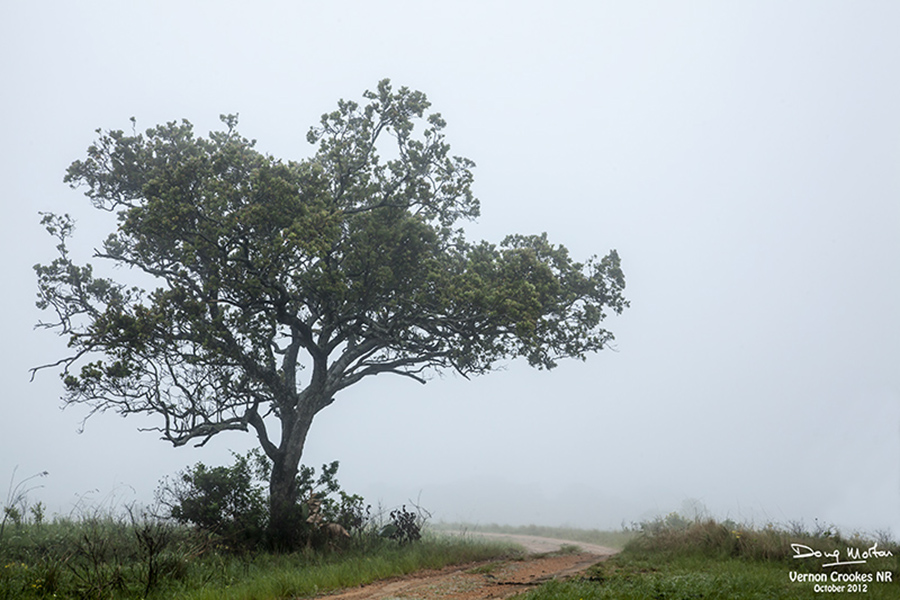 Arrival at the hutted camp was an eerie experience. It was totally deserted apart from the few birds braving the wet weather, and the only sound was the drumbeat of the heavy drops of condensed mist that fell from the Flat-crown trees overhead. The murk seemed to be trying to strangle the bit of light that filtered in, and this was midday!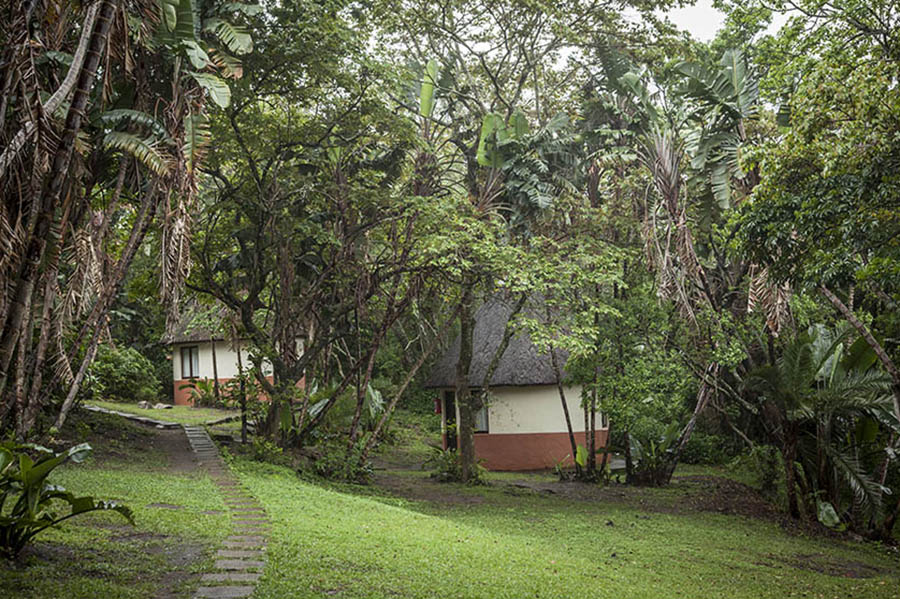 We settled in after selecting our rondawels and having the obligatory cup of coffee. Then it was time for all lunatics to go for a walk. We chose a short trail that started where we'd parked, and soon regretted not packing our speedos and water wings. Ten metres out we were drenched, mostly from the tall grass that drooped across the paths, laden with raindrops. After that it didn't matter too much any more, and so we plodded and skidded along looking for, and finding plenty, of targets for our cameras. Fran had the great idea of taking along a towel as a camera wrapper.
This was one of several cycads nestling in the thick vegetation near the camp. Quite a shock to see such a splash of colour in the midst of all that grey.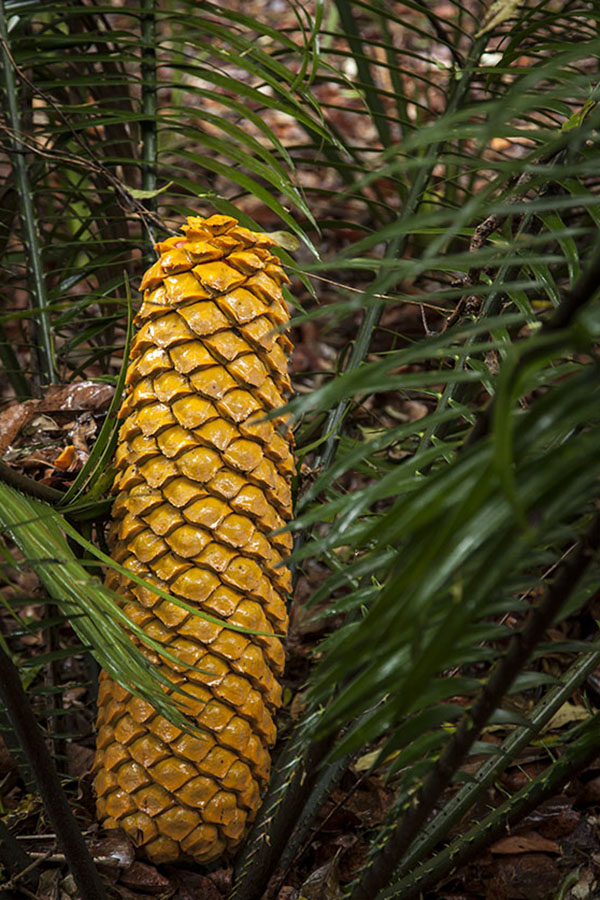 The sprightly ladies had soon left the plodding potbelly behind but had the grace to turn and wave from time to time. Or just laugh, I couldn't tell.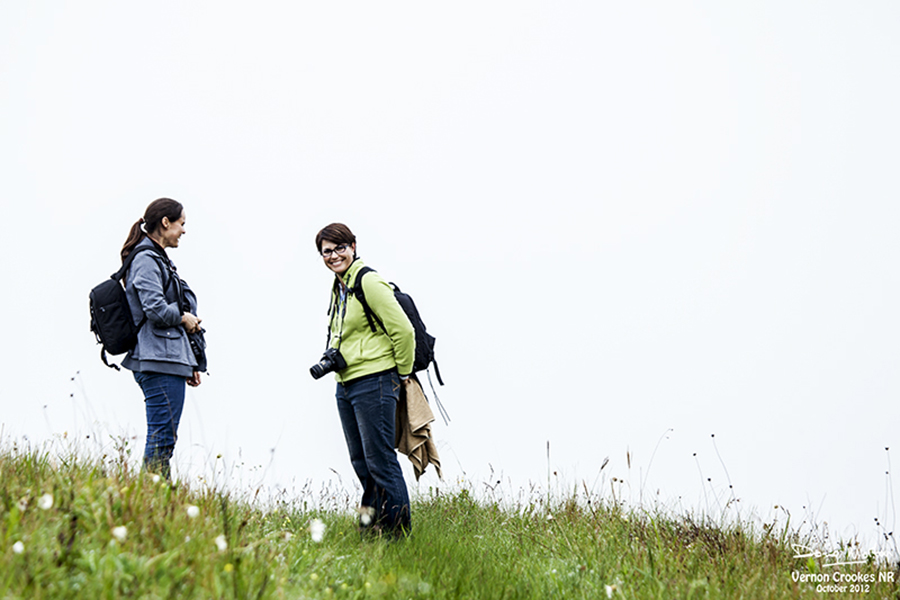 After squelching back to camp we were off to another part of the reserve to try some landscapes and even some birds and wildlife. This was where I began to get really interested, and tried to make the most of the scenery, which was still wreathed in mist and cloud. There wasn't a breath of wind, and the water surface on the main dam was like a mirror, disturbed only by the gently falling rain .....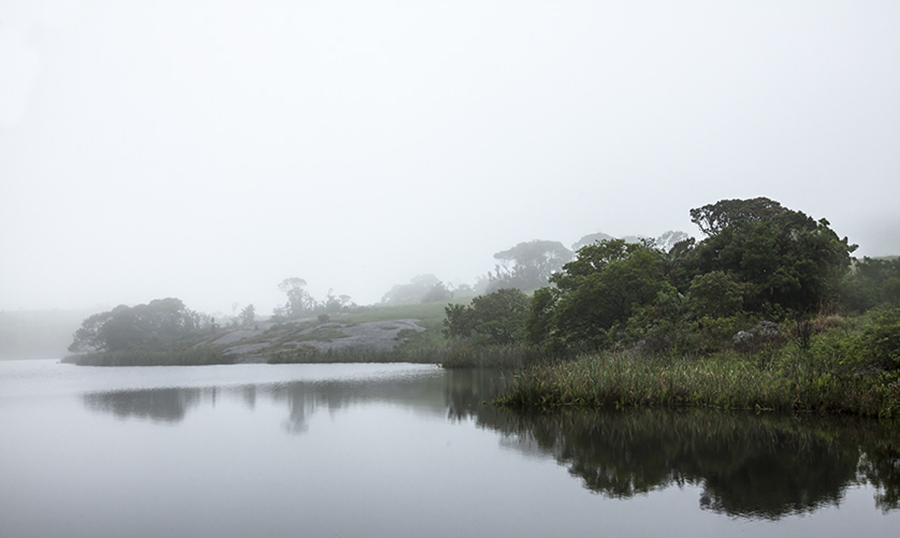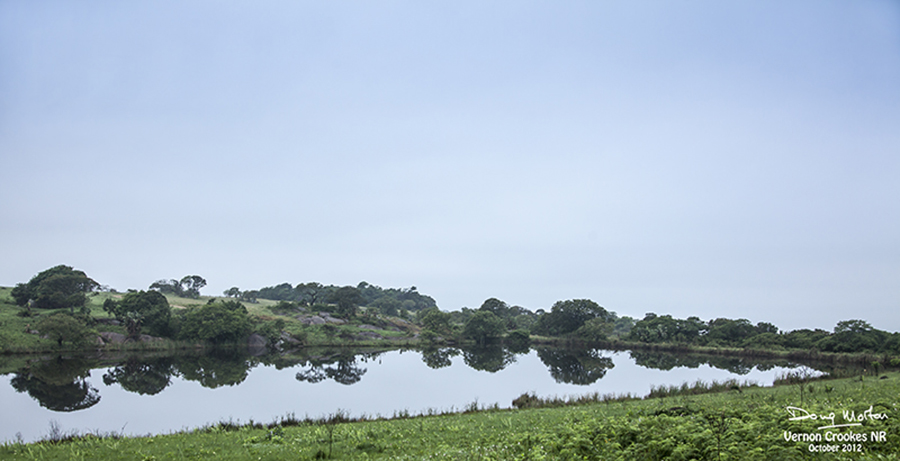 .... while along the banks were the most wonderful selections of grasses and sedges with shapes and forms that were just loaded with composition possibilities, and the mood was nearly tangible.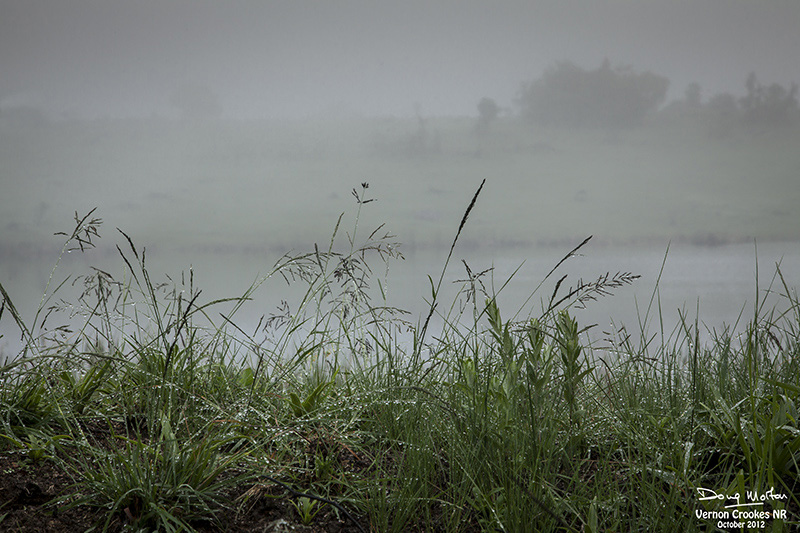 Back to camp, and in the gathering gloom the Albiziia trees were steadily leaking their collected raindrops onto a waterlogged landscape.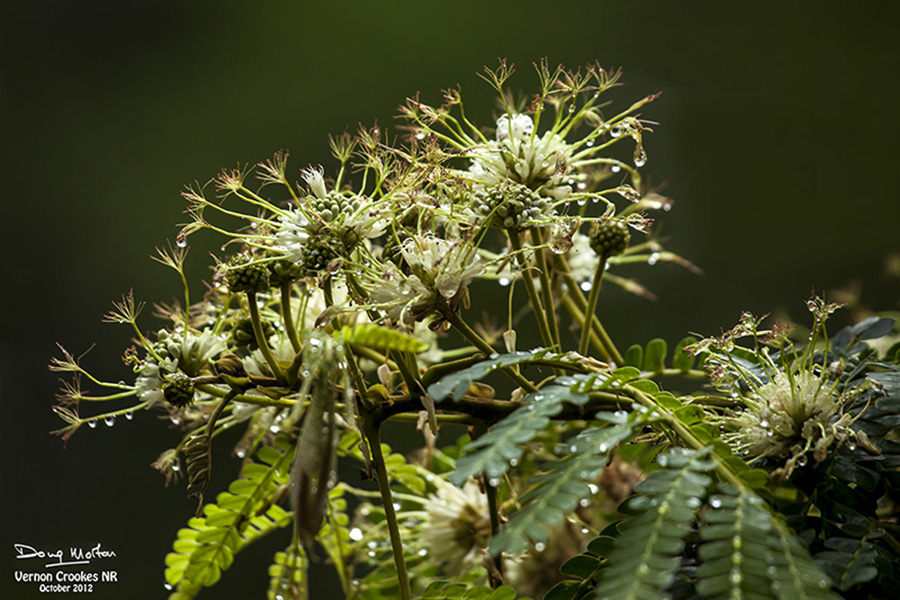 We'd been given the use of the little education centre in the camp, and so had the space to set up our computers for downloading our efforts and making a start on selecting images and editing them. This is the nature of digital photography, and most of the effort is needed long after the shutter button has done its job.
Incredibly, the next morning dawned misty, but DRY, and Marlene, Fran and I set off for a hilltop called Worlds View to see what we could see. After a short while the sun made an appearance and the mist was doomed. It fascinating watching the play of the increasing temperature on the low clouds, and in the clear light there were flowers everywhere.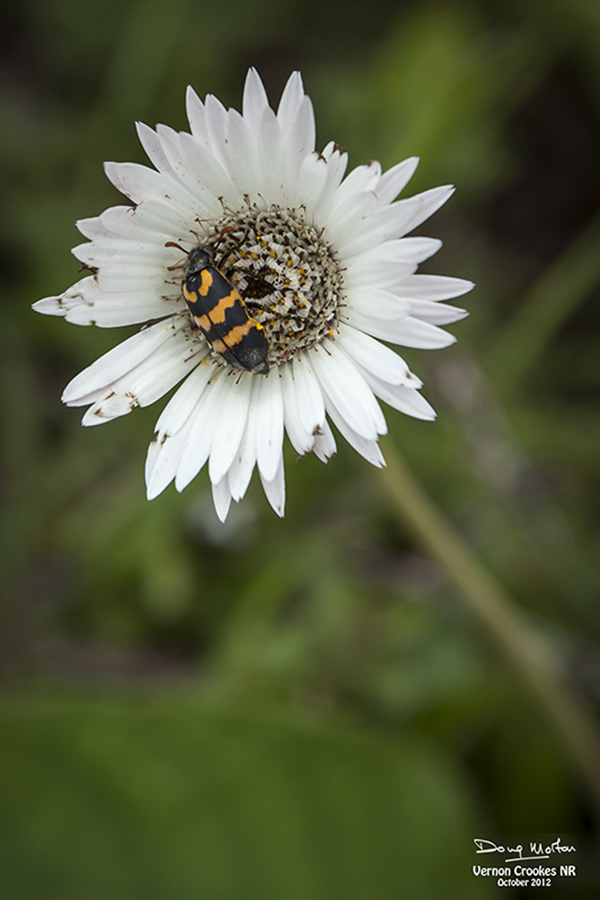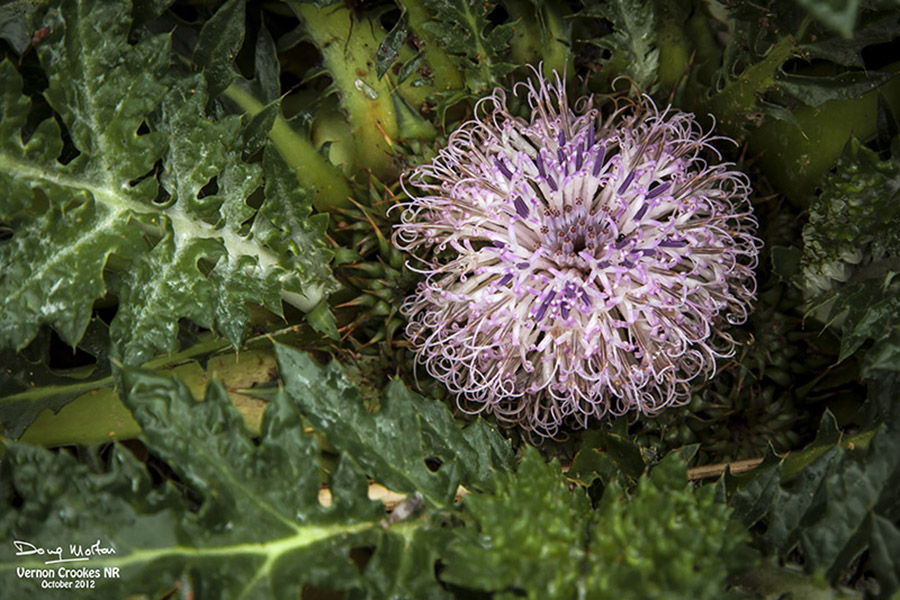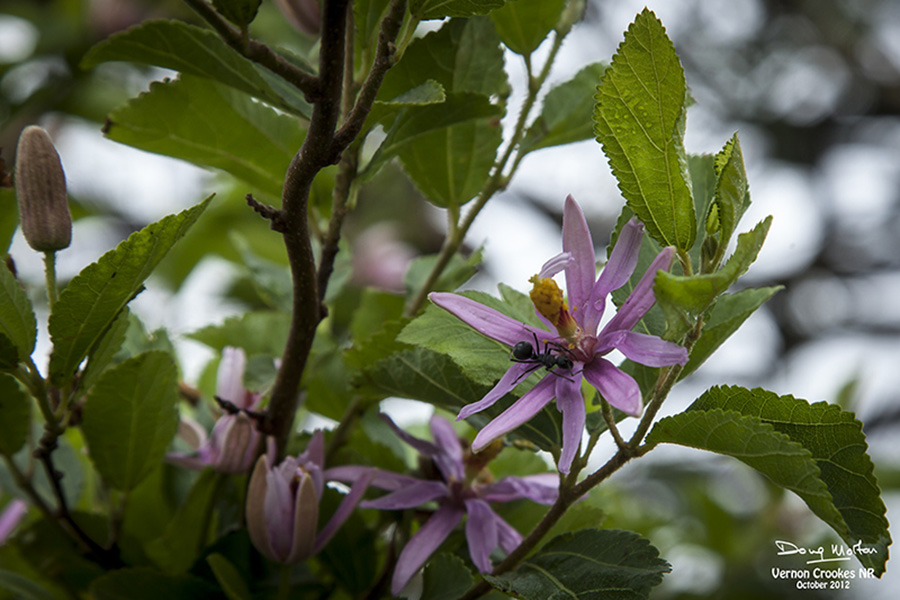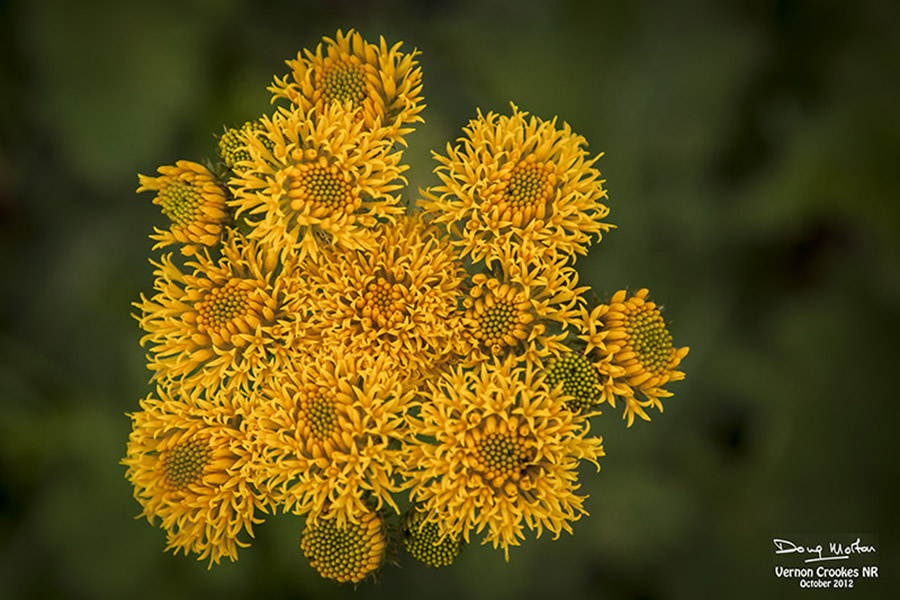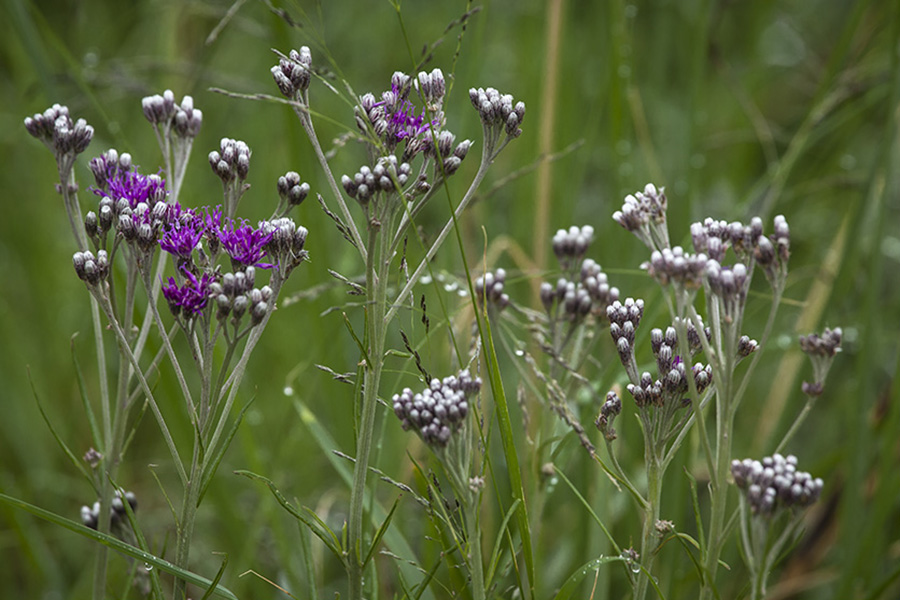 We each concentrated on our specialities, but it wasn't too long before ole Potbelly had been left far behind again. Just as well I had a long lens on the camera or I'd not have been able to get this shot...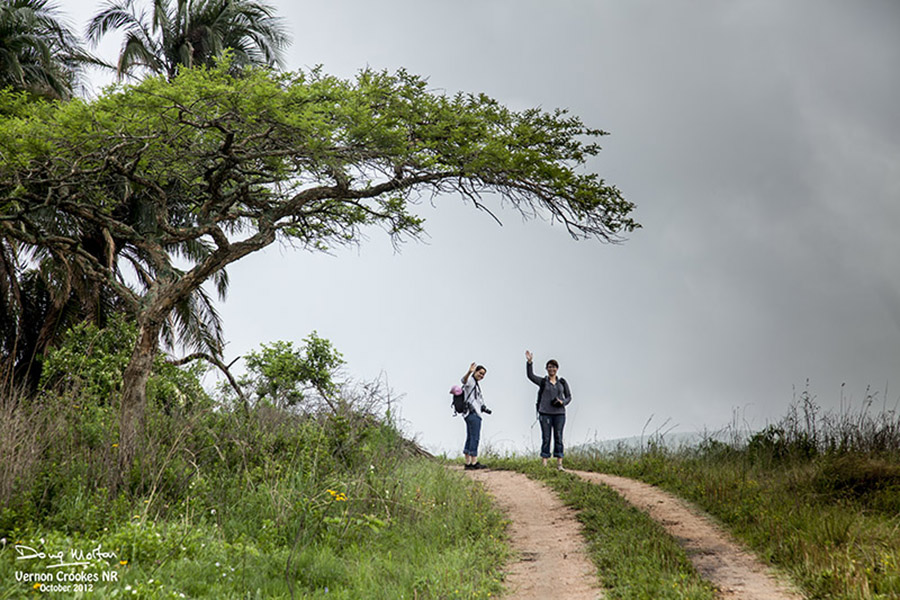 And so back to camp for a bite and to collect Terri for a trip to the hilltop where I'd hoped to get another decent sighting of a Martial Eagle. By now the weather was pleasantly warm, and the ghostly tree shapes of the previous day had been replaced by sunlit three-dimensional subjects. It was a slow drive as we kept stopping and loping off into the deep stuff to look for the images we knew must be there. Here's one...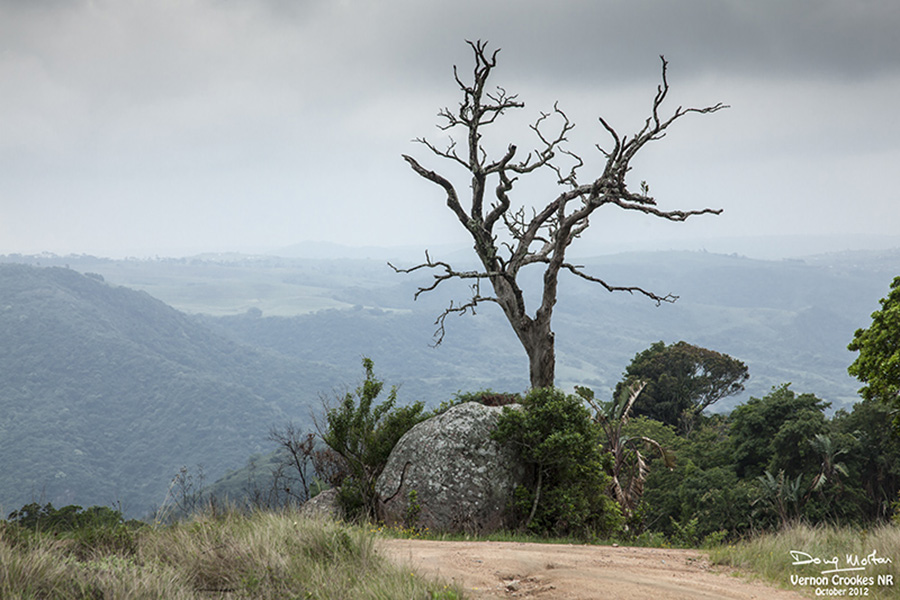 This reserve is unusual in that the local community has the freedom to travel through the park between their homes and the main road to Park Rynie, meaning that one has to beware of minibus taxis, pedestrians and even some livestock. For this guy it was a long and pretty steep road....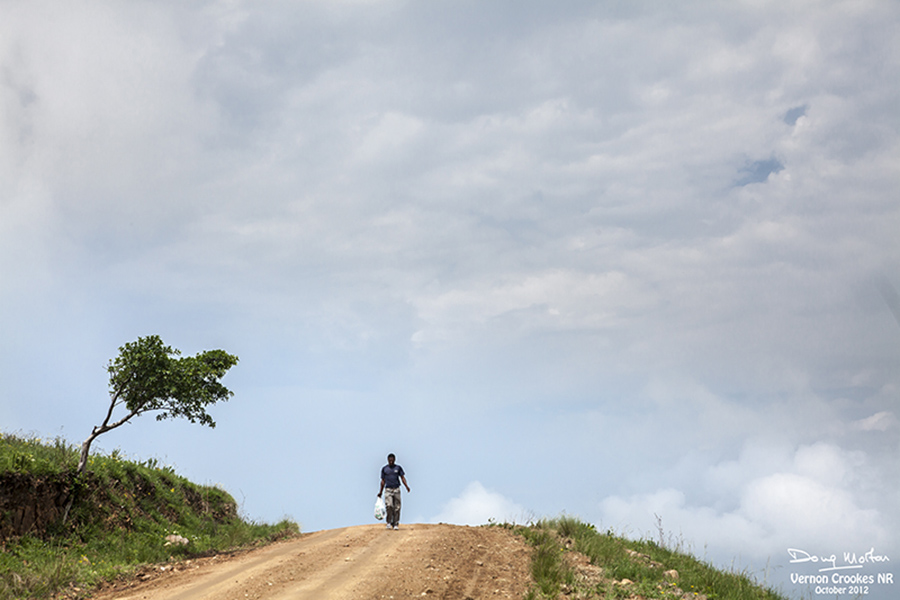 And so to the top of the hill where there was not one Martial Eagle to be seen. In fact no raptors at all, not even a Yellow-billed Kite or a Long-crested Eagle. That was a disappointment as I'd foolishly "guaranteed" Marlene a Martial. But there were adequate compensations...
The flowers had opened to the sunlight, and put on a display that was just dazzling. There were all shapes and colours, and literally millions of them. All the ladies got stuck right in, and I found it difficult to tell whether they themselves or the flowers were lovelier.. I just slipped that in to score some points. Terri was using her new Canon SX40 for the first time, and needed some help, but came away with some lovely images. For some of the time I stood back and recorded some of the sights and antics.....
Here's Fran in serious mode.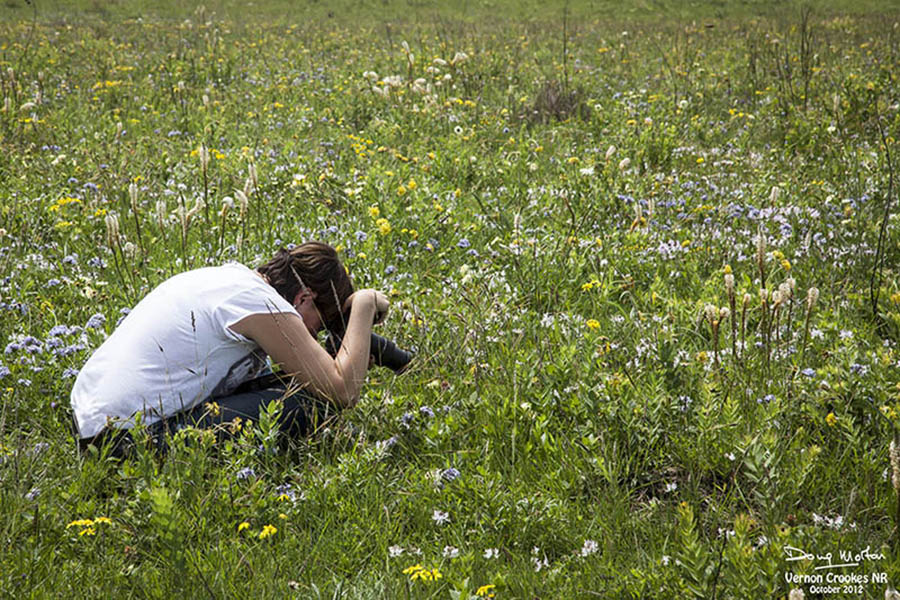 And in the distance Marlene was doing the normal Marlene thing - gathering beautiful macro shots....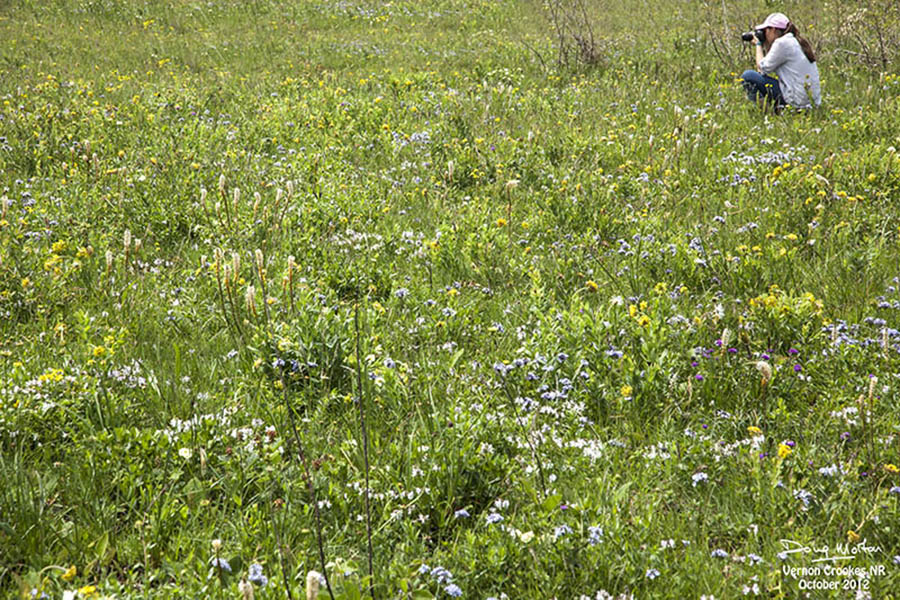 with Terri wearing a hat-on expression to ward off the by now serious heat.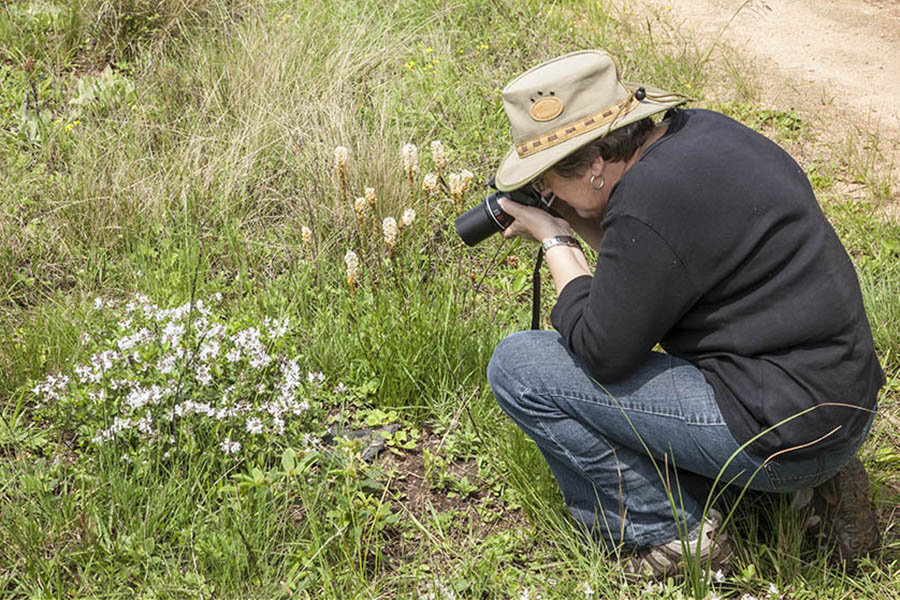 But the real bonanza was yet to come. Quite by accident, in a small wetland, while I was trying to put together some shots of the water, we noticed some small movements in the grass, which luckily wasn't too long just there....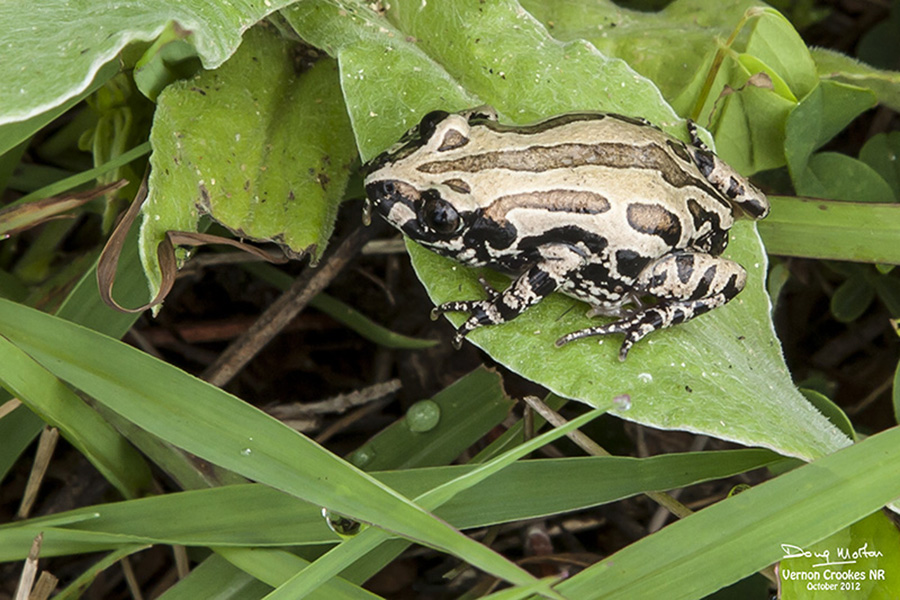 Not just one species, but at least two, though not one of us knew more about frogs than we did about nuclear fission, so we scampered about trying to corner these beasts for a photo-shoot - a first for the frogs as well as for us, I believe. Some of the frogs settled down enough for me to get some interesting shots....
Squeamish is not a factor with the cute fellows, and Marlene did the honours with this one.........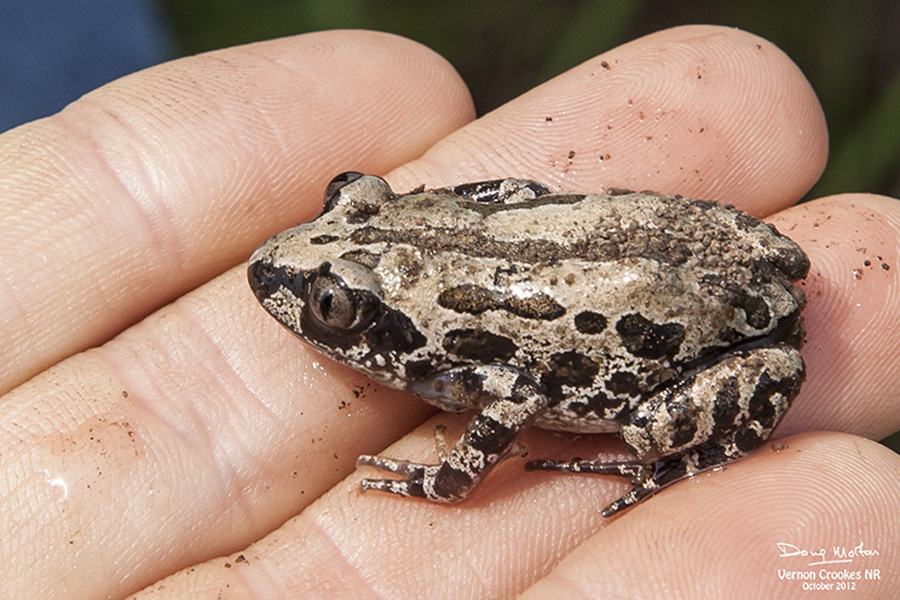 While another really got into the spirit of the occasion by trying to annex Fran's camera and take some pictures of us, I suppose.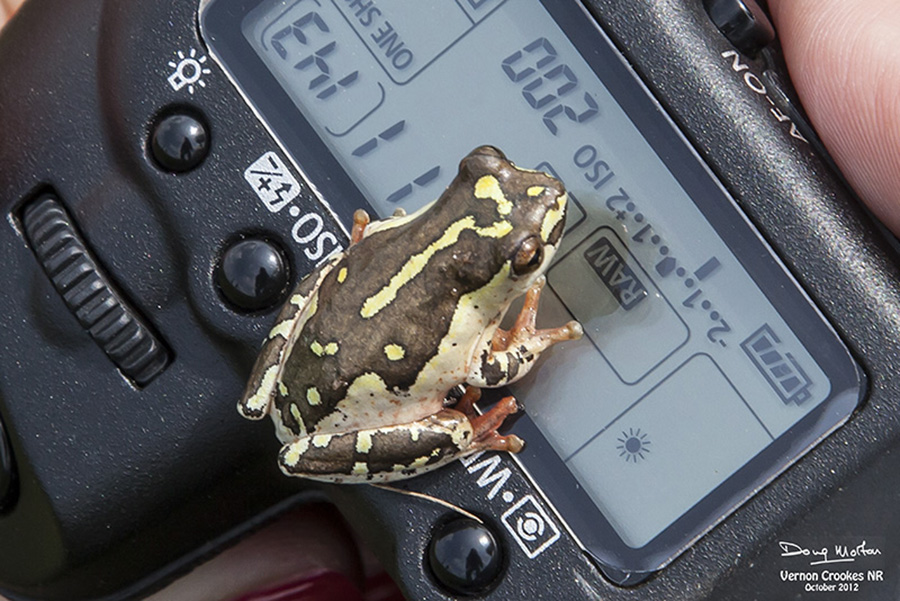 After all this excitement we went off bird-hunting for Marlene to grow her library, but after the very wet srping the bush was so thick there was nothing to be found. I thought that was a real pity as Vernon Crookes is a renowned birding spot, and is home to some real specials like the African Broadbill. But no luck
That evening we had a braai planned, and of course the rain had come back. What a mission to get a fire going in the firepit that now resembled a mini swimming pool, and then to cook our little bits of meat over the scarcely glowing coals. Although I've never been a golfer, I was reminded yet again of the value of a golf umbrella in certain cirmumstances.
Sunday morning. No surprise. Gloomy, wet and windy. So we packed up early and headed off to Umdoni Park. I'd been super-rash and "guaranteed" Marlene a good sighting of a Narina Trogon, and after the non- appearance of the dead-cert Martial Eagle the previous day I braced myself for more ignominy. But guess what? There it was, and Marlene got a far-better-than-passable shot of it. I began to breathe again. We had a quick hike around the bush, for some reason Fran doing this barefoot until she was battling.
And so we called it quits on the weekend. Although we'd had generally poor weather, I ended up with a series of pictures that were probably more interesting than I'd have got in good weather. It had been a good trip, with Vernon Crookes being new territory for Fran and Marlene, and a welcome return trip for Terri and me after many years.
Perhaps next time the sun will shine.....